What to see

About Fuerteventura Corralejo El Cotillo La Oliva Tindaya Tefía
Puerto del Rosario Antigua Betancuria Caleta de Fustes Ajuy Pájara
Gran Tarajal La Lajita La Pared Costa Calma Jandía Morro Jable Cofete
Fuerteventura is the second largest of the seven Canary Islands. Africa is only 100 km away. The island is 100 km long and from 5 to 30 km wide. There are about 40000 inhabitants, together with thousands of tourists and Spaniards from the mainland who come to work here in the hotel and catering industry.
Although the Canary Islands all have a volcanic origin, they each have their own identity. Many people don't like Fuerteventura, they think it's ugly, and uninteresting. Well, I don't agree. Its beauty lies in the bare, lonely vastness, and in the many shades of the volcanic soil. The mountains (at most 900 meters high), show beautiful colors, from yellow ochre, red, brown to black. There hardly grown anything on the hard soil, here and there some palm trees, succulents and cactuses. However, each part of the island although always barren looks different. It's great for people who love moonlike environments. In the inland, there are only some small villages where there isn't very much to see.
Fuerteventura is especially known for its beautiful, lonely white beaches and dunes. If you like forests, lush vegetation, museums and cultural activities, big cities, or extravagant nightlife, you'd better know that you won't find any of those things on Fuerteventura. When you like beautiful beaches, volcanic areas or if you are more of a sportive type who likes diving and surfing, you'll probably love the island.
Fuerteventura is rather small, so you'll need no longer than a few days or a week to explore it. From the one end of the island (Morro Jable in the south) to the north (Corralejo), is a 135 km drive (it takes about two hours by car over the main road). Don't underestimate distances when you're driving on mountain roads or unpaved roads, where you are forced to drive very slowly.
Map Fuerteventura, Map Canary Islands
What to see
I'll start my description in the north of the island and will end in the south.
The last time I visited the island was in 2000, it is possible that some things have changed meanwhile.
Corralejo is a popular seaside resort in the north of the island. There are 3500 inhabitants, and a large number of tourists especially Germans, Britons and Spaniards. The Avenida Generalísimo is the lively main street where are most shops ( souvenirs, electronics, supermarkets, sportswear), restaurants, bars, car rental companies and some hotels). Corralejo has an older, typical Spanish quarter and a new area. There is a short promenade, a small harbor and good beaches. It's not a very beautiful village, but the atmosphere is nice and relaxed. In Corralejo you have a view on the island Los Lobos, which is only two kilometres away. You can go on an excursions to Los Lobos, but I doubt if there is much to see.

Tourist office at Plaza Pública (closed on Sunday). |Bus station in the western side of town, at Av. Juan Carlos 1. | Taxi stand at Centro Comercial Atlántico at Av. Generalissimo Franco. | Also on Av. Generalissimo Franco: pharmacies, shops, a German medical practice with 24 hours service at C.C. Brisamar. | There is also a medical center in Calle Cruceres de Baleares (centro de salud). | Post office in Calle Lepanto.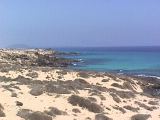 Near Corralejo are the beautiful dunes, Parque natural de las dunas de Corralejo. This nature reserve is protected since 1982. About twenty square meters of piled up white sand, with on one side the bright blue sea, and on the other dark mountains, which is really magnificent. The sand is coming from coral reefs and shells, which have been pulverized by the flow of the ocean during millions of years. Many people believe the sand has been blown over from the Sahara, but that isn't the case. The extended beaches are rather quiet, it's only near the Riu hotels that the beaches are more crowded and that there are some facilities (like food stalls and a shop). When you go there by car, make sure not to park outside the designated areas, not only because your car could get stuck in the sand, but also because you could damage the dunes.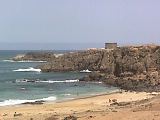 El Cotillo is an old, small fishing village in the northwest. At the south side there is a small harbor with colorful fishing boats and a watchtower in black lava stone. From this point you have a great view on the rough shore, wild ocean and the bare inland. A bit more to the north stands the lighthouse Faro de Tostón. You can drive from El Cotillo to Corralejo via Lajares on a rather bumpy road trough a moon like landscape. On a clear day you have a nice view on the islands of Lanzarote and Los Lobos.
La Oliva has been the political center of the island during the 18th and part of the 19th century. A few renovated mansions of that period are still there. There is a white church with a black lava stone tower. The gallery for contemporary Canarian art, Centro de Arte Canario, is located in Casa Mané, surrounded by an open-air exhibition in the garden.

Closed on Sundays.
Tindaya is the ideal starting point for a walk to the top of the nearby volcanoes Montaña Tindaya (4oo m alt.) and Montaña Quemada (300 m alt.). On Montaña Quemada there is a monument in remembrance of Miguel de Unamuno, Spanish writer who has been banished to Fuerteventura. It's also assumed that this mountain has once been the location for sacrifices. Spanish artist Eduardo Chillida caused some commotion when he announced that he would like to transform the inside of the mountain Tindaya into a gigantic artwork. There has been a lot of protest against this plan, and it's not clear for the moment if the project will be carried out.

Tefía is an old farmers settlement, that has been restored in order to attract tourists and to let the ancient farmers traditions revive. However the place is yet nothing more than a deserted small settlement in the midst of an ochre plain.
The airport is situated at the eastern coast, near Puerto del Rosario, the capital of Fuerteventura. There are only 20000 inhabitants, but it is nevertheless the largest city on the island, and the only place with a hospital or cinema. There are no real attractions or beautiful areas, bit you can enjoy the atmosphere and see how the people live. The city council is trying to make the city more appealing to tourists, but al lot off efforts need to be done. The only museum in town is dedicated to writer Miguel de Unamuno who had been banned to Fuerteventura.

Adress Casa Museo Unamuno: Calle Virgen del Rosario 11, open on weekdays. Tourist office: Avda. 1 de Mayo, 37.
This town is one of the oldest villages on the island. There are still some small white houses, a church and ruins of windmills. One of those windmills is open for visitors: Centro de Artesanía Molino de Antigua.
Betancuria is protected by the National Trustand is considered as the most beautiful village of the island. It was the first capital of Fuerteventura from 1405 - 1834. It's a sleepy village with 600 villagers. There are a few mansions and a church.
Caleta de Fustes (= El Castillo)
This recent holiday village is only 7 km from the airport, the transfer is short but I have no idea if there's a lot of noise from the planes. The airport isn't that busy so I assume it won't be too bad. It's a pleasant, rather small village with low buildings and some small shopping centers. This place is especially a family resort. A striking building is the black tower near the marina. At the marina you can rent equipment for windsurfing or diving.
Ajuy is a very small fishing village at the west coast of the island. The white houses with blue and green shutters and the brightly coloured fishing boats contrast beautifully with the black lava beach. Climbing up near the beach you get a nice view of the ols harbour and Caleta Negra (the black cave).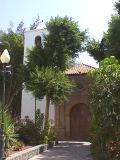 Pájara, the provincial capital of the southern peninsula is said to look African, I don't agree, but is a very pleasant small village. The small center is full of trees and flowers, the streets are narrow and filled with typical white houses with wooden balconies. The church at Plaça Nuestra Señora de la Regla has a beautiful portal with Mexican figurines. The red mountain area in surrounding the village is also worth driving trough.
Gran Tarajal is the second largest town of Fuerteventura. Life is going on there without tourists.
This village on the east coast in itself isn't important, but there is a zoo where you can also take a ride on a camel or a donkey. Interesting for kids.

The island is only 5 kilometres wide on the narrowest part of the island, here is La Pared on the west coast. The beaches are very nice, but it is dangerous to swim here because of the strong flow. It is a great environment and it is worth to leave the main road and to drive to the waterfront. Dark blue waves dash against the black rocks. The inland is barren and black.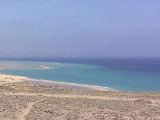 Near Costa Calma are the beautiful white 25 km long beaches of Playas de Sotavento. The main road here shows some magnificent views on the white beaches and the clear bright green water. Costa Calma is a completely new built and quiet holiday resort. There are a few large hotels, great beaches, a palm tree lined street and a small planted forest which is a rarity on the barren island. It's a beautiful place but there isn't much to see (at least not when I was there in 2000, it might have changed meanwhile ): only a few shops, almost no nightlife, only a few bars, but if you like it peaceful it is a great place to stay.
Jandía is the name of the southern penisnula, the holiday resort is called Jandía Playa. It is a new and artificial place, lacking charm, with only one mentionable street, Av. Solana de Matorral. At one side of the street you see the beautiful beaches and on the other side there are shops, supermarkets, pharmacies, bars and hotels. The beaches here are wide, quiet and very beautiful (comparable to Costa Calma).
Jandía Playa and Morro Jable are adjacent and complementary because they are completely different. Morro Jable is an old fishing village with narrow streets and old houses. Inhabitants sit in front of there houses, chatting and watching the tourists pass. There is an harbour where ferries to the other Canarian Islands arrive and tourist boat trips leave. Near the beach there is a short promenade with a few old bars. At the edges of the village new homes are built to house the employees of hotels in the neighbourhood.
Past Morro Jable there are no more villages, all there is is a dusty road to Punto de Jandía and Cofete. The road winds trough ad ark and barren landscape with great views of the sea. A beautiful viewing point is the very windy Roque del Morro.

Index Fuerteventura Photos What to see Home Practical Information