During the half of the 20th century there was an increase of population and the city became too small. Architect I. Cerda was appointed to design new areas to host workers but he had to work especially on accommodation for the middle class. His plans were changed completely, the planned parks were deleted and the only thing that was kept, was the chessboard pattern of the streets. However, El Eixample is still an area with great importance in architectural way. It is more like an open air museum, where some of the most striking Modernist buildings are displayed. It is in many ways a very pleasant area, almost in every street you will discover beautiful houses, and the main streets are filled with elegant shops. More information about Modernism and the important architects of this period on the architecture page.

Rambla de Catalunya is a a continuation of the other Rambla, but it is completely different, because it had to become the promenade for the rich. Expensive shops and some beautiful houses are located here, especially the Modernist fašades of n░ 21 to 27 are worth to look at. If you walk on this street you'll see in a street on the right, Carrer d' Arago, the spectacular steel wire work of art of Antoni Tapies on the roof of Fundacio Tapies, a gallery with works of the Spanish painter and other contemporary artists.
At the end of Rambla de Catalunya at the corner of Avinguda Diagonal you'll find Casa Serra from Puig i Cadafalch.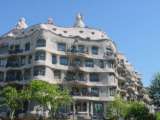 Passeig de Gracia is the most important street of the neighborhood, filled with luxurious shops,and some of the most beautiful Modernist buildings in Barcelona. At n░ 92 is 'Casa Mila',(photo) sometimes called La Pedrera, designed by the famous architect Antoni Gaudi. You have to see this (if you like architecture of course), it really is a fantastic building. The courtyard, top floor and the roof can be visited. When you enter the courtyard you're surrounded by blue, green and yellow curved walls. On the top floor there is an exhibition of scale models, slide shows and photo's of Gaudi's most important buildings. Every corner of the building is asymmetrical, there are corners and niches everywhere, hundreds of brick arches vault the room. The roof is a real wonderland with mosaics, stairs, arches and chimneys disguised as sculptures. You have a good view over the city too.
The next 3 houses are Modernist buildings, but look each very different, which can be observed well as they are built next to each other. At n░ 43 Passeig de Gracia, there is another masterpiece of Gaudi : Casa Battlˇ. (photo). The house is open to the public. The fašade is made in colorful mosaic, the balconies look like facial bones of giant animals and the roof represents the back of a prehistoric animal.
Next to Casa Battlˇ on n░41 is Casa Amattler, a Neogothic building of architect Puig i Cadafalch.
The headquarters of Tourist information at n░35 is located in another important building, Casa Lleˇ Morera by DomŔnech i Montaner.
On Carrer Mallorca there are more buildings designed by DomŔnech i Montaner, like Palau Montaner (on the corner of Carrer R. de Lluria)and Casa Thomas at n░ 291.
In Eixample, there are hundreds of other houses worth seeing, just look around. More information about architects and buildings on my page Architecture.


Metro line 2, 3 or 4 stop Passeig de Gracia or Pl. de Catalunya.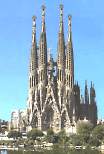 More or less in the same area, at Carrer de Provenša is
La Sagrada Familia, Gaudi's cathedral situated. The building of the cathedral started last Century but it is still not completed. The three major fašades represent Birth, Passion and Death, and Glorification. There have to be built four towers at each fašade, with a total of twelve (one for each apostle), but only eight are finished yet. The towers are 107 meters tall, have a structure of vertical ribs, surrounded by horizontal rings and are full of references to nature. The spires are real masterworks, existing of concrete decorated with colorful mosaic and glass. It's a shame that cranes obstruct the view of this amazing building. The unfinished interior and the museum in the cellars can be visited. Some people say it's worth visiting, others say there isn't much to see.


Metro line 2 and 5, stop Sagrada Familia.